admin on August 19th, 2008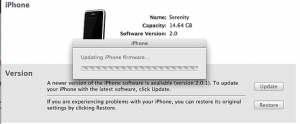 The just released 2.0.2 firmware update seems to improve the 3G reception for iphone 3G owners.
But what does it bring to the iPhone 2G?
 
Some things I found out so far:
It seems to be a bit more snappy (lag in typing and adressbook scrolling is less)
The build-number is 5C1
The baseband does not seem to be upgraded (still 04.05.04_G). That means everyone who pwned their phone and updates to 2.0.2 will loose the jailbreak, but the phone should stay unlocked and activated.
Some things that are still not fixed:
Backups still take way too long. If you just backuped your phone before the upgrade, backup seems faster initially but for me backup speed decreased as soon as I removed/installed some applications.
Installing applications takes still way too long if you have a certain number of applications already installed.